Memphis Regional Megasite
WTIA lists information as provided by the entity submitting the building or site for marketing purposes. This information is subject to change.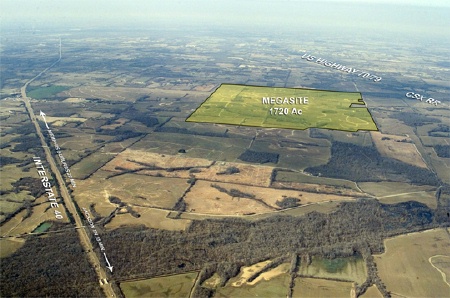 Description:
Site has completed the McCallum Sweeney Automotive Mega Site Certification process. This site is adjacent to I-40 and CSX Mainline Railroad. Site is within 45 minutes of the Memphis International Airport, home to FedEx World Headquarters. The site is within 60 minutes of a population of over 1.7 million people (30 minutes east of Memphis, TN). Preliminary environmental and geotechnical work have been completed.
Site Details
| | |
| --- | --- |
| Address | Interstate 40 |
| City: | Stanton |
| County: | Carroll |
| State: | TN |
| Zip: | 38069 |
| Acreage: | 3820 |
| Railroad: | CSX Mainline |
| Sale Price: | negotiable |
| Lease Price: | negotiable |
Infrastructure:
| | |
| --- | --- |
| Interstate: | I-40 |
| Distance To Interstate: | adjacent |
| Highway: | Highway 79 |
| Distance To Highway: | adjacent |
| Port: | Port of Memphis |
| Distance To Port: | 54 miles |
| Airport: | Memphis International Airport |
| Distance To Airport: | 51 miles |
Utilities
| | |
| --- | --- |
| Natural Gas: | Brownsville Energy Authority |
| Electric: | Southwest TN Electric Membership Corporation |
| Water: | Brownsville Energy Authority |
| Waste Water: | |
| Telecom: | AT&T |
More Information About Carroll County
| | |
| --- | --- |
| Population: | 27,767 |
| High School Graduates | 312 |
| Labor Force: | 12,116 |
| Unemployment: | 648 |
| Unemployment Rate: | 5 |
| County Website: | County Website |
| County Demographics: | Download |
| County Worker Flow: | Download |
Labor Shed Data For Carroll County
| County | 2019 Population | 2019-2020 HS Graduates | February Labor Force | February Unemployed | February Unemployment Rate |
| --- | --- | --- | --- | --- | --- |
| Benton | 16,160 | 157 | 6,736 | 428 | 6.4 |
| Decatur | 11,663 | 142 | 4,349 | 281 | 6.5 |
| Gibson | 49,133 | 625 | 21,828 | 1,103 | 5.1 |
| Henderson | 28,117 | 283 | 11,989 | 622 | 5.2 |
| Madison | 97,984 | 618 | 48,932 | 2,418 | 4.9 |
| Weakley | 33,328 | 258 | 15,607 | 702 | 4.5 |
| Carroll | 27,767 | 312 | 12,116 | 648 | 5.3 |
Other Buildings in Carroll County
| Building Name | Square Footage | City | County |
| --- | --- | --- | --- |
Other Sites in Carroll County
| Site Name | Certified | Acreage | City | County |
| --- | --- | --- | --- | --- |